Leather Tricorn Pirate Hat, just like Cap'n Jack Sparrows, hand made and finished.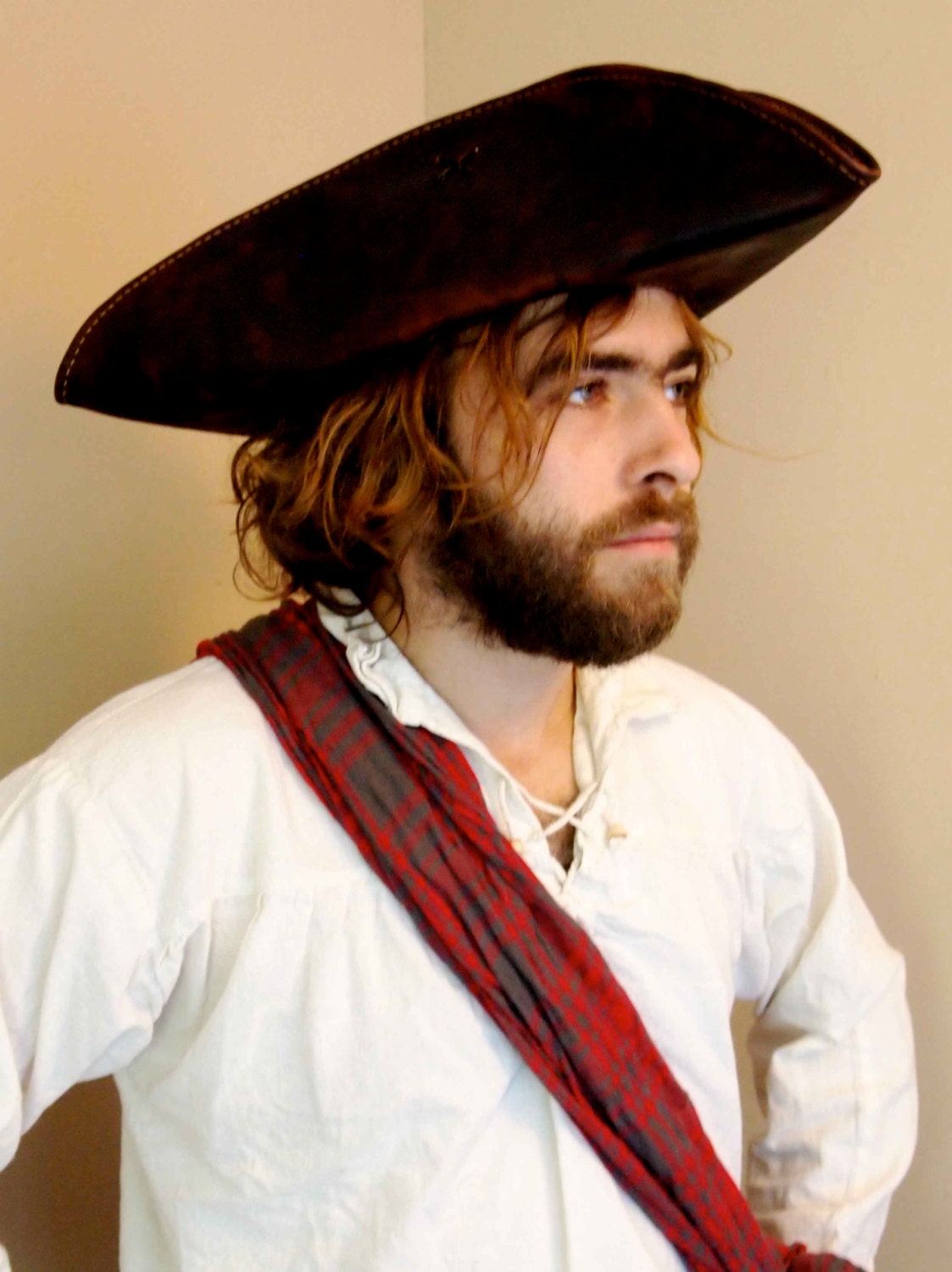 Aaar me hearties. These hats be the result of hours of research and are, as near as possible, an authentic recreation of leather tricorn hats worn during the late 17thC. As with all the items I make, the be created from the very best veg tanned leather, linen thread and traditional leather dyes and finishes.

The crown be made from 2mm shoulder full grain as shoulder is easier to wet mould and stiff when dried. The brim be from full grain veg tanned side . Side be finer and retains flexibility after working and staining. Unlike some other mangey curs who use the same cuts of leather for every task, I select the correct leather for the job, meaning you can be assured of a hat that will last a lifetime.

The crown be formed using a purpose made wooden last and it be wet moulded(not a flat two part crown), so the shape be correct, if the hat be to fit a human head, then it should be moulded correctly to fit one! After construction the hats be dyed using spirit based stain (it will not bleed onto your head when boarding an enemy ship under the Carribean sun) and finished with two applications of dubbin and finished with a polish, making it able to withstand a stiff nor-easter. My hats, like everything else I do, be fully hand stitched using waxed linen threads, I do not rely on glue to hold parts in place!

There be a longer delivery time for these hats as they take MUCH longer to make then many of my other items. The price be high but reflects the number of hours involved in cutting, stitching and finishing, please remember, every hat is individually hand made for you personally, these are not mass produced stock items!

At Blackwater Leather we are principally employed in marine leatherwork on traditional sailing craft, if you are going to invest in a top quality bespoke pirate hat, why not commision a sailor and marine leather work specialist to make it! Avast there ye swabs!

Thank ee, if you have any questions please get in touch, or look us up at our blackwaterleather website.


Overseas postage by arrangement, just drop me a line.
Ships
from United Kingdom
ship to
cost
with another item
United Kingdom

£3.50

GBP

£3.50

GBP

Everywhere Else

£6.50

GBP

£6.50

GBP