Real, Functional, Leather Eye Patch, handmade and finished.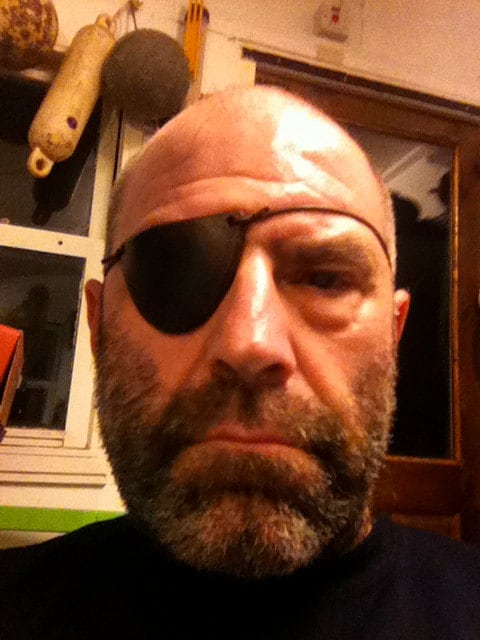 This eyepatch would look great when worn with a Pirate Tricorn Hat, but it is more then just a 'dressing up' item.

I am registered blind and only have a little vision in one eye. My totally blind eye is in constant danger of being knocked or poked when I am out and about. I usually wear a pair of strong wrap-around sunnies to protect it but had the idea that a moulded leather patch might do the job better.

I did a bit of research and came up with a simple design that really works. For a start the patch is moulded so has a rounded shape that ensures that eyelashes do not rub against the inside of it. This means that you do not need to keep the eye tightly shut and can simply relax your face. The shape also ensures that there is a good circulation of air inside to avoid the patch feeling hot and sweaty.

I decided to use a pair of leather thongs to secure it in place rather than the ubiquitous elastic, again I find that leather thonging is cooler and nicer to wear. You only need to tie it once after that you just slip it up and off, like a hat. It goes back on the same way. Simple.

So if you are looking for a great authentic looking patch that really works and feels comfortable, look no further. Of course, I am happy to emboss and decorate according to your wishes, decorative stitching, skull and crossbones? Steampunk version, or even a pair of moose antlers? Maybe not. Just contact with your requirements and I am sure I can meet them.

Aaargh, an' if ye be a mangy swab that has a need to look piratey, well there ye be! Avast there.
Ships
from United Kingdom
ship to
cost
with another item
United Kingdom

£4.50

GBP

£0.00

GBP

European Union

£4.50

GBP

£0.00

GBP

Everywhere Else

£9.50

GBP

£0.00

GBP