…if we can visit and measure the boat and even easier if the customer knows what he wants.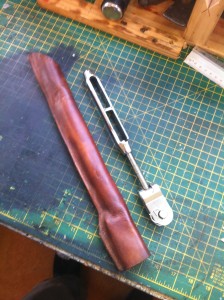 A while ago we were asked to make a set of bottle screw covers for a West Solent OD that is kept in a local yard.  No problem.  When we visited the beautiful boat to do the work the specification was changed by the boat keeper, who commisioned the work.
A week later and we went back to the boat to fit the bottlescrew covers only to be told the design had been altered again!  Grrr.  Never mind, the customer is always right, is'nt he?
So with a new design explained we return to the workshop and make another set of covers.  Back to the boat and learn that the design has been altered AGAIN by the owner this time.  By now the boat was about to be moved to her winter quarters and the job was becoming a 'rush'.  Because all the rigging had now been removed and the mast taken down, we were given a bottle screw (see pic) to use to make a final version.  A week later we return to the yard with a bag of perfect bottle screw covers, only to discover that the single bottle screw we had been given, and told to work from, was in fact the forestay bottle screw.  Er, so what I hear you ask.  Well the fact is that on this boat the forestay screw is 50% larger than the others.  So, only one bottle screw cover actually fitted.
By now we are getting a little bored with bottle screw covers.  Chucked the whole lot in a skip and went home.
Moral of the story?  Please let us measure and design any bespoke leatherwork.  We will make them and offer them for approval and if you like them you will be invoiced.  We will never break our golden rule of accepting orders over the phone without first either visiting your boat to measure and design or at the very least have a set of drawings we can work from.  If boat keepers, yard managers, helpful locals, and owners all get involved then it quickly becomes a case of 'chinese whispers' and no-one really knows what is going on.
Moan over 🙂